Print Templates
Uploading New Print Templates
To open the Manage Print Templates dialog, go to Options & Tools > Manage Print Templates.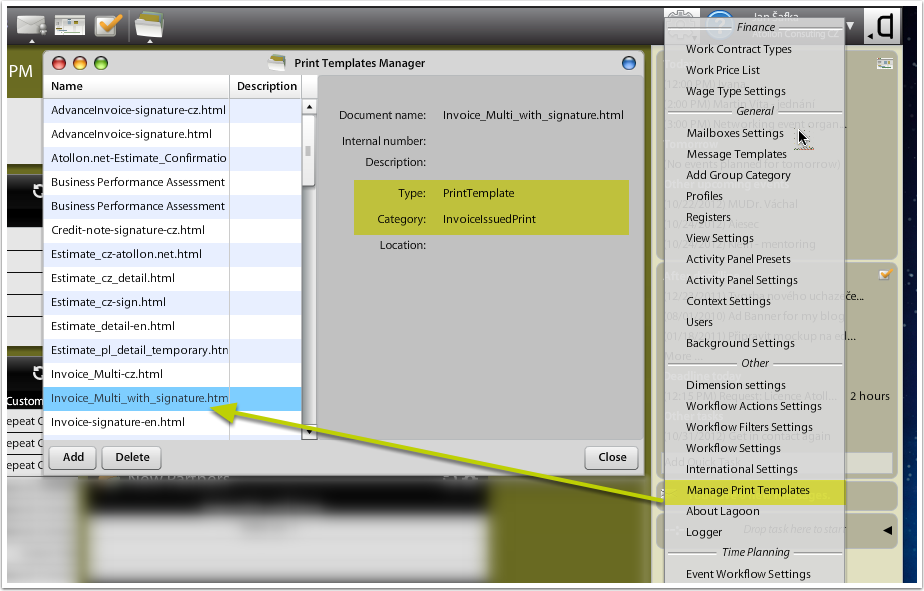 Using this tool you may upload 2 types of templates:
a) XHTML print template
These templates are designed for the purpose of printing and converting to PDF. It can be simple XHTML-compliant document, but may also incorporate data gathered from Atollon.
b) XLS template
Atollon supports generating MS Excel output from Atollon data.
Document Type
When uploading the Print Template, it must be set (by default) to "PrintTemplate" Document Type.
Document Category
The Print Template document must be assigned to appropriate Document Category. Print dialogues in Atollon filter Print Templates based on Print Categories. For example in order to print Estimate, you must upload template into EstimatePrint it's Document Category.
In order to get list of print categories, go to Print Template Categories page.
Print Templates Design
To learn more about Print Template Design, read Mooring Templating Guide. Using Atollon Logger application, you may get PrintJob data available to the Print Template. All data that are available in PrintJob may be used in output.
To learn more about exporting into Excel, read Excel Templating Guide.
Download Sample Print Templates
You may be provided with public sample print templates for free. For that please contact atollon or your implementation partner.