Projects & Folders Application
Application Projects & Folders is used to quickly report on main Finder's Folders, including General Folder, Project Folder & Activity Folder.
You can easily show your potential clients, your Sales Opportunities in Presentation phase, your service contracts or Cases in In Progress phase, etc.
Using the Application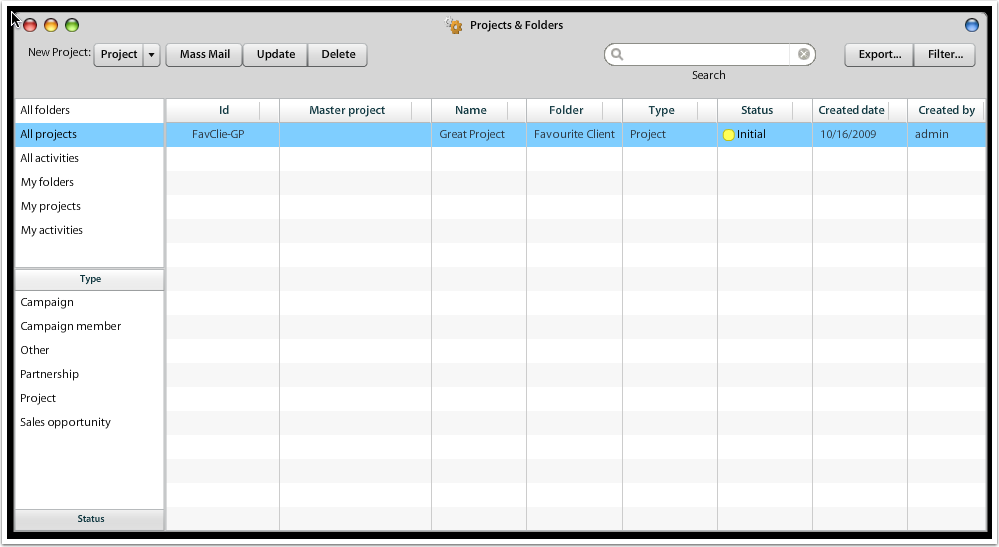 The left side bar (views) are used to filter Folders, Projects & Activities, either your own or all where you are allowed to access (list).
You can filter folders, projects & activities from top down & decide:
Show My / All Folders/Projects/Activities
Show only one type of folder (project, activity)
Show only one status of folder (project, activity)
Examples
There are several scenarios, how to use this application:
Show my potential/active/lost clients
Go to left side bar, select:
My folders
Below list of types of folders is displayed, select "Client"
Below list of Client's states is displayed, select "Potential"
Now you show only potential clients.
Show Active Cases/Projects
If your company tracks service cases, they are usually treated as specific project type. Therefore, if you want to display all active Cases, you can select:
All projects
Select project Type: "Case"
Select desired status in bottom part of the accordeon
Using quick Mass Mail on projects
If you want to send all your External contacts on projects some announcement, this tool is quite suitable. You can also use general Reporting for the same task.
You can filter projects that you would like to send message to:
Select All projects option
Select the Type of the project
Select the Status of the project (if necessary)
You can now optionally select only particular projects, or you can press Mass Mail button on top of the application.
In Mass Mail contacts selector, you may check option Send mass mail to "External contacts on project". Continue by pressing Mass Mail Wizard.
Delete Project
You may delete any project that has no financial data or documents stored. Also some other data stored project may cause no possibility to delete the project. In case you know what data prevent you from deleting the project, you may first clear them and later on try to delete the project.