Applicants Database
Is store all contact information about applicant, incl. his/her profile and evaluation, storage of document in the form of a CV or connected files.
Atollon recognizes document content to enable full-text CV search.
All data about applicants are accessible from one location, without the need to search in several spreadsheets, databases, file system.etc.
On left side you get overview about:
applicants name
last modification
who done it
On right side you get access to all applicant data:
contact details on top
Profile with skills, experience, etc.
Communication with applicant
Documents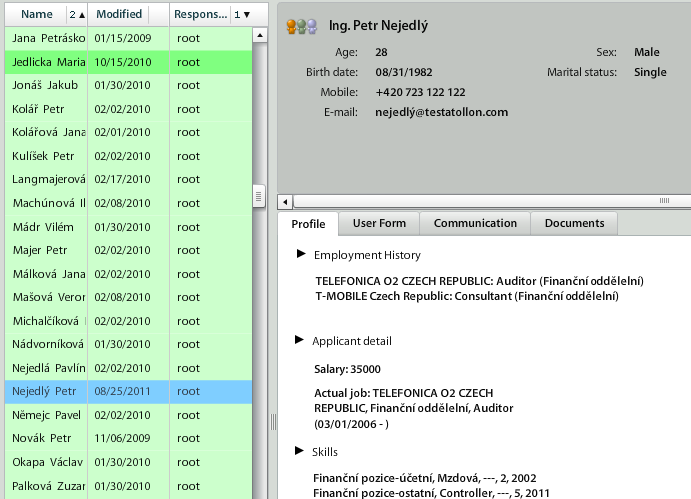 Deleting Applicant
There are certain conditions, under which applicant can't be deleted. These are at least:
There are documents stored on Applicant's Selection Procedures or at Applicant's profile (CVs, etc.)
There are financial data, such as invoicing on the project, etc.
Other relations may be indicated by error message that the system tells you in the attempt to delete the Applicant folder.
Please note that you have to delete Applicant first from Applicants database (the same as the screenshot above) and after that you may also need to delete Applicant's contact from Contact DB.