Atollon Innovations 2023 (week 32)
New Features
Document Signatures
You can now add your own signature and automatically add it to documents that you generate and authorise.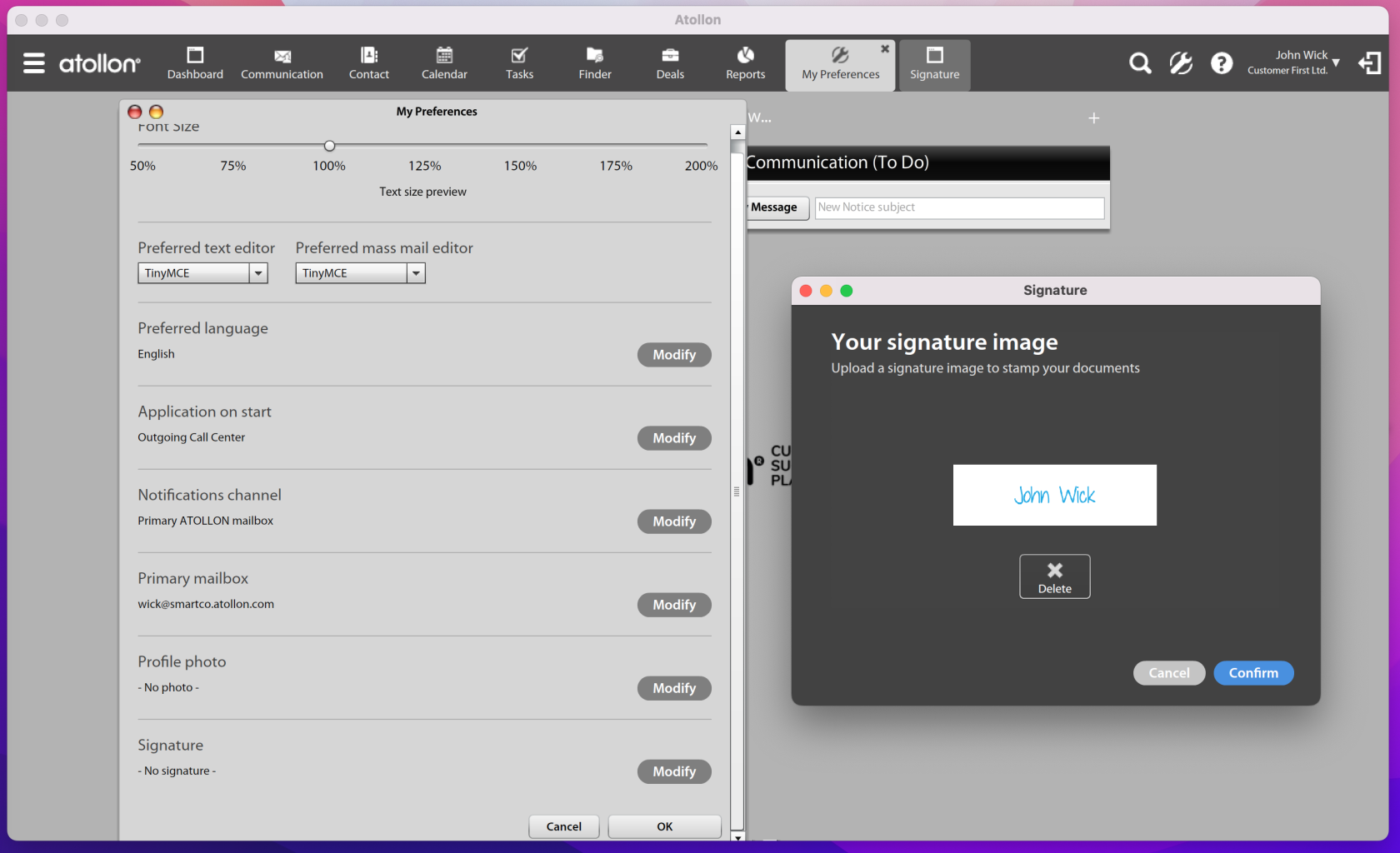 Now if you are key document user, your signature may appear on the printout:

Enhancements
Activities
New card view introduced: All kinds of activities, incl. service activities may now utilise new, more comfortable preview.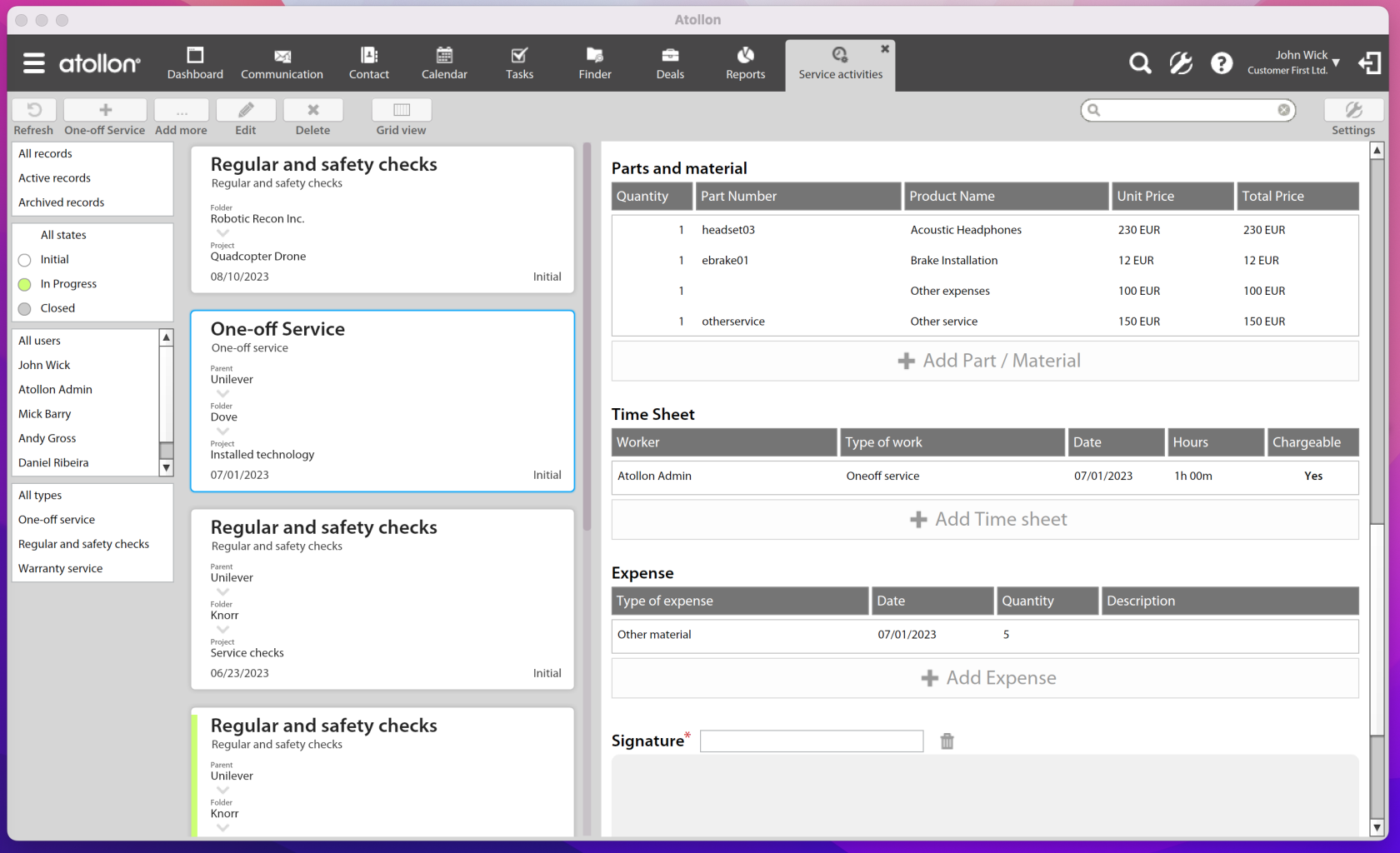 Time Sheet component - now possible to set directly whether time is (non)-chargeable.

New activity - selecting project now includes Ref. ID.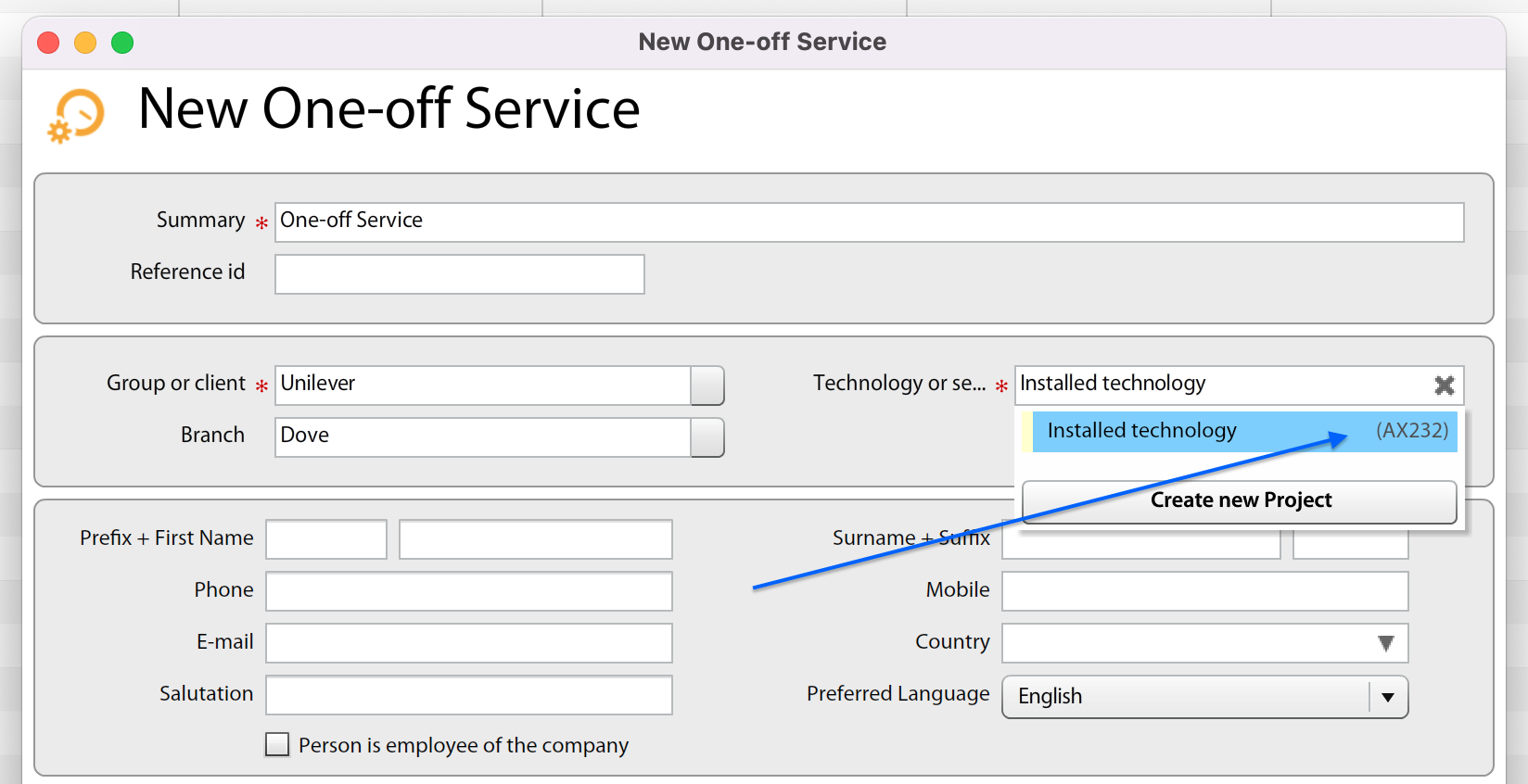 Calendar
Changed default preview on context events from graphical to textual form, which better helps user workflow when checking on what events are planned for client, project, deal, service activity, etc. Split view shows what events are Planned, Completed or Uncompleted to support workflow of closing past events (ie by completing Meeting Notes, etc.)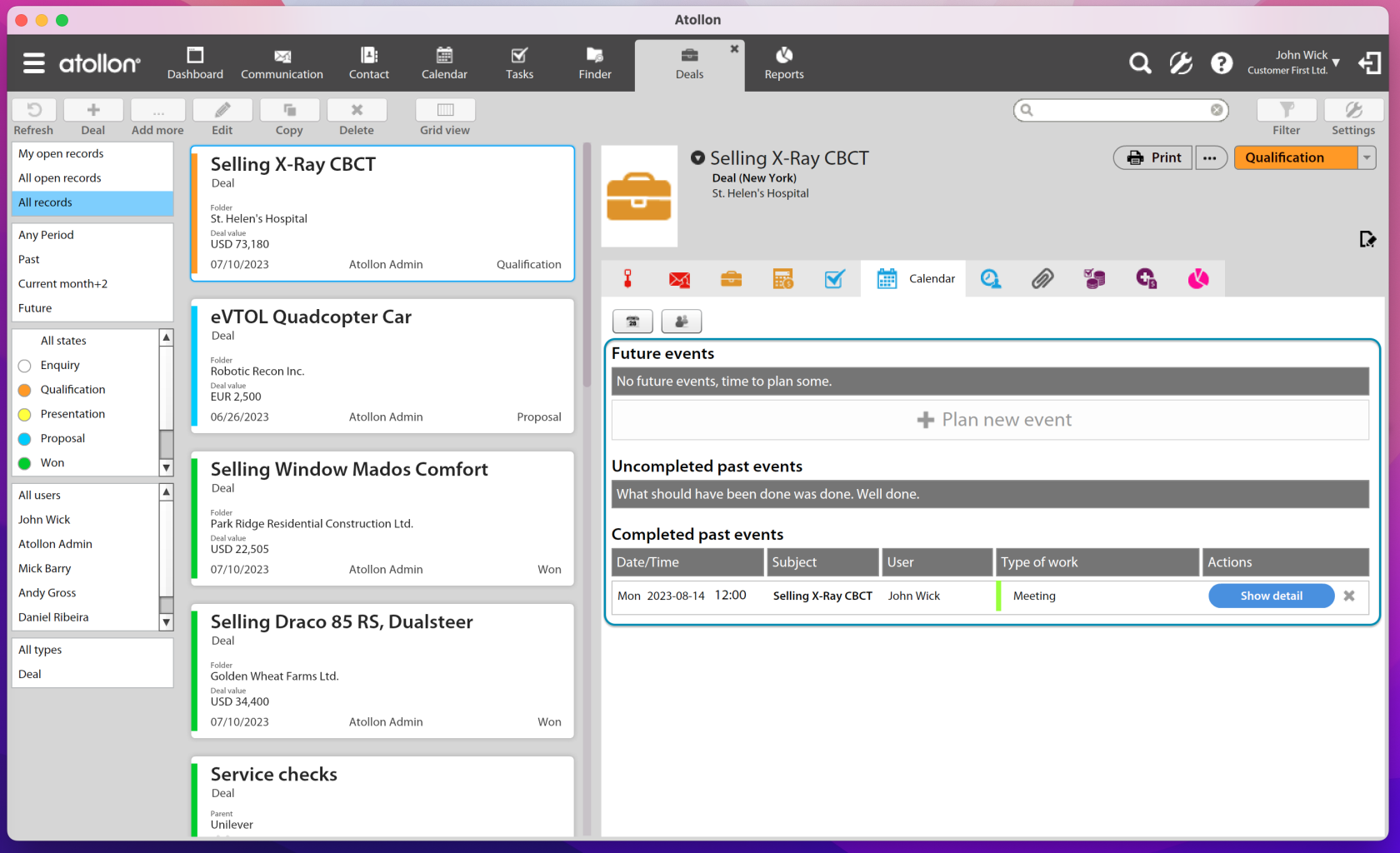 New planning function that helps plan event related to context (folder, project or activity).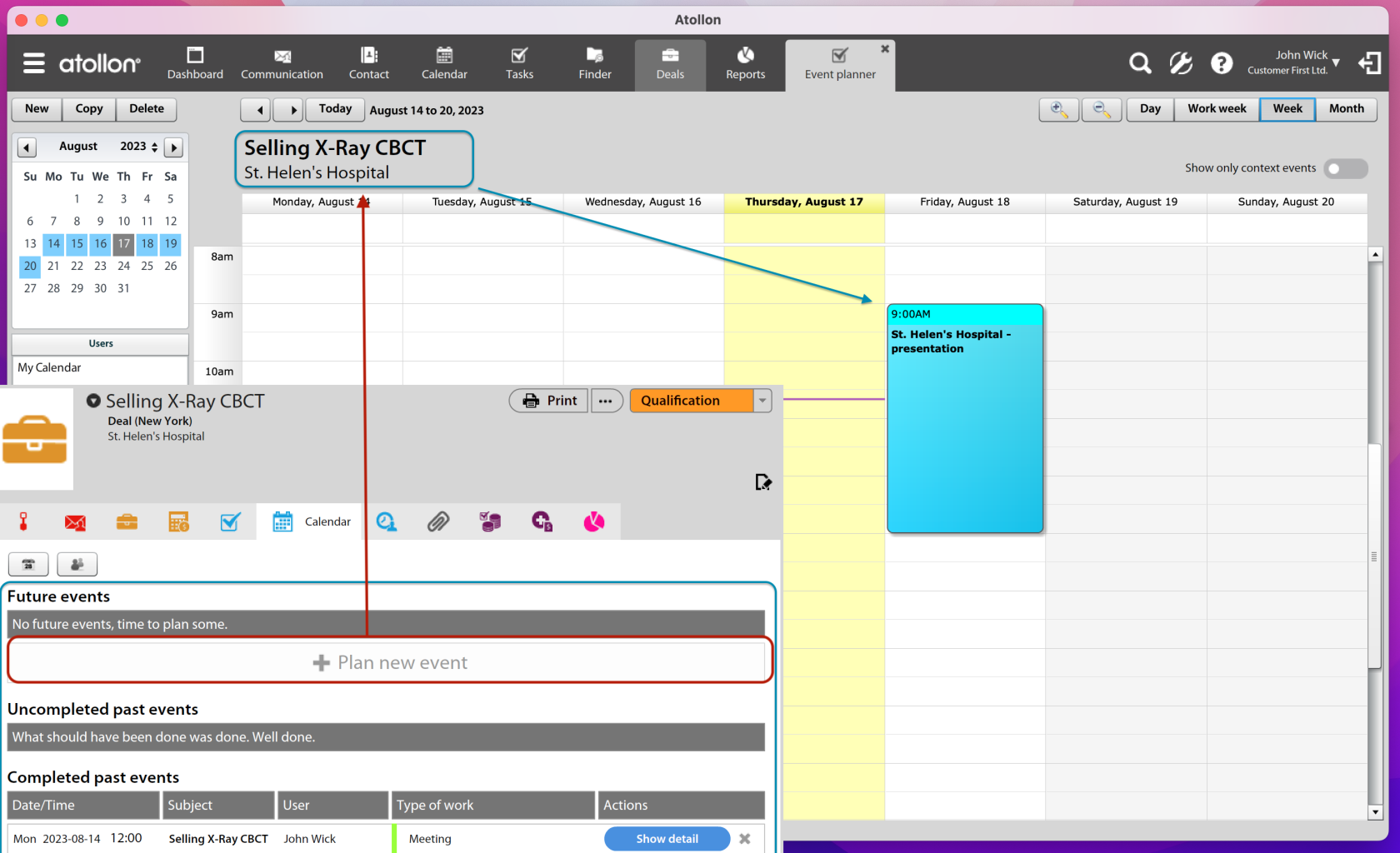 Calendar colours improved - in multi-user view, colour is set to user. Colours are brighter now.
E-mail
Keyboard shortcuts now fully supported in e-mail editor. Go to e-mail editor and press ALT+0 to show list of supported commands. On top of many shortcuts, you can use Ctrl + F to search in e-mail body or Cmd/Ctrl + S to save e-mail draft, etc.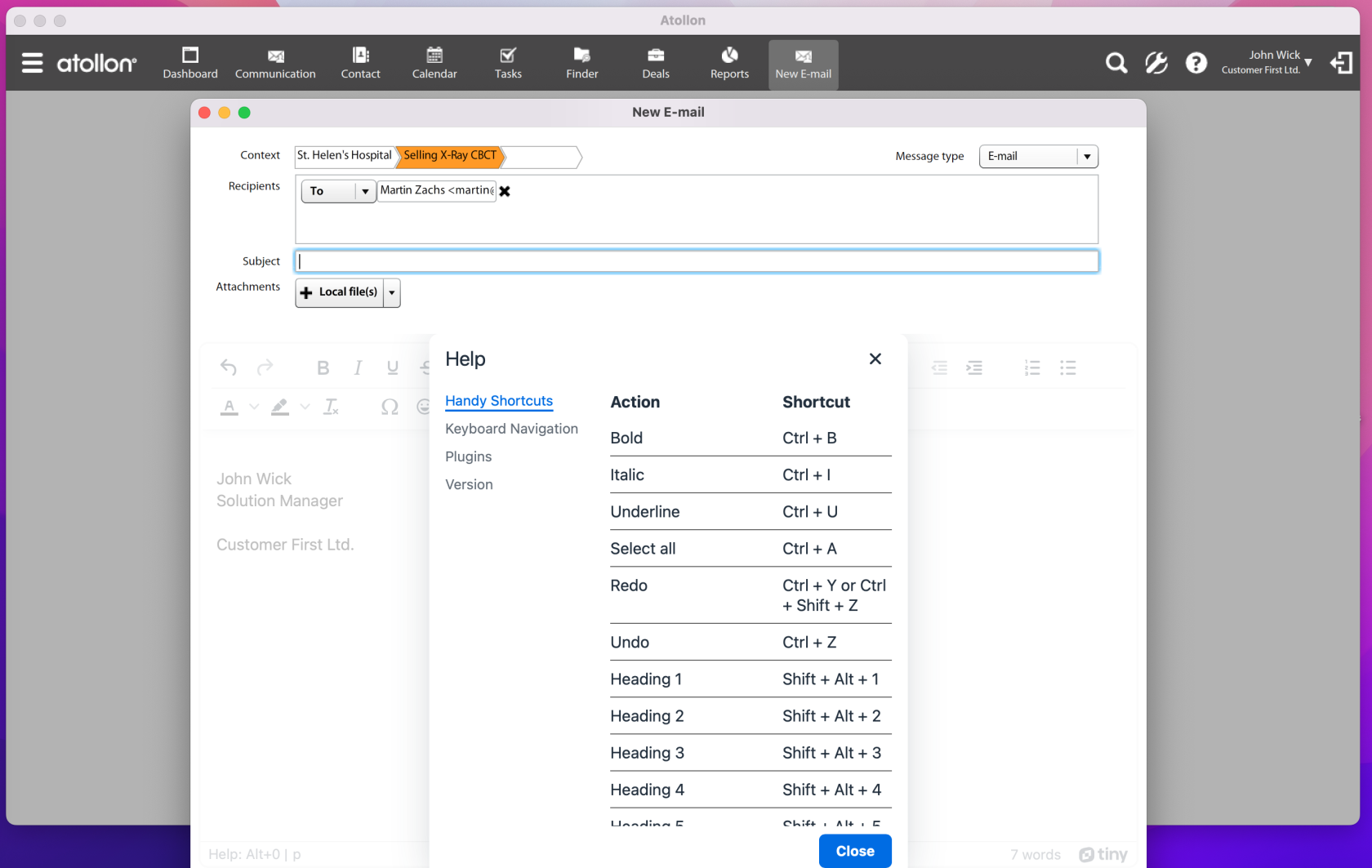 One of the key commands in action: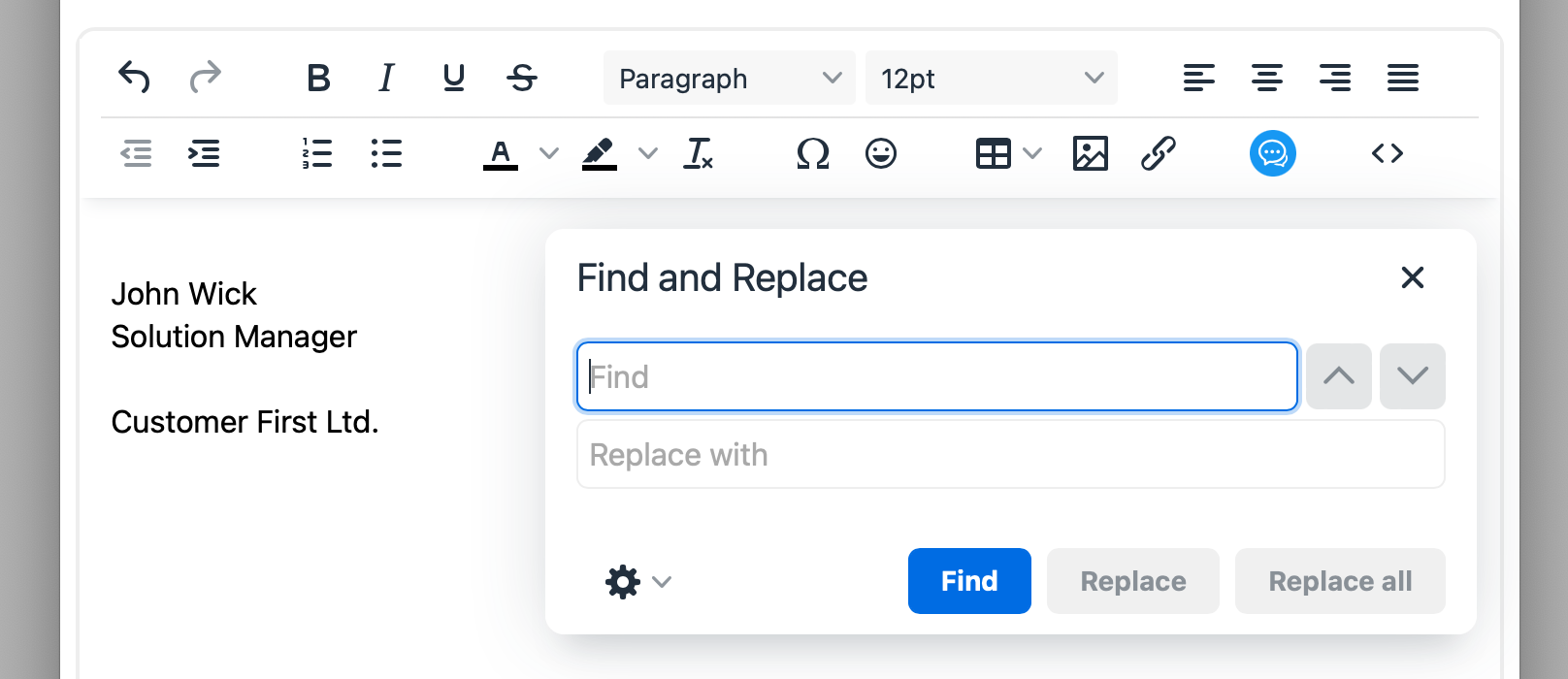 Finder
Major productivity improvement: Context detail (from project level below) now displays full path for less mouse clicking and better overview.

Folders, projects and activities have now colourful status :-)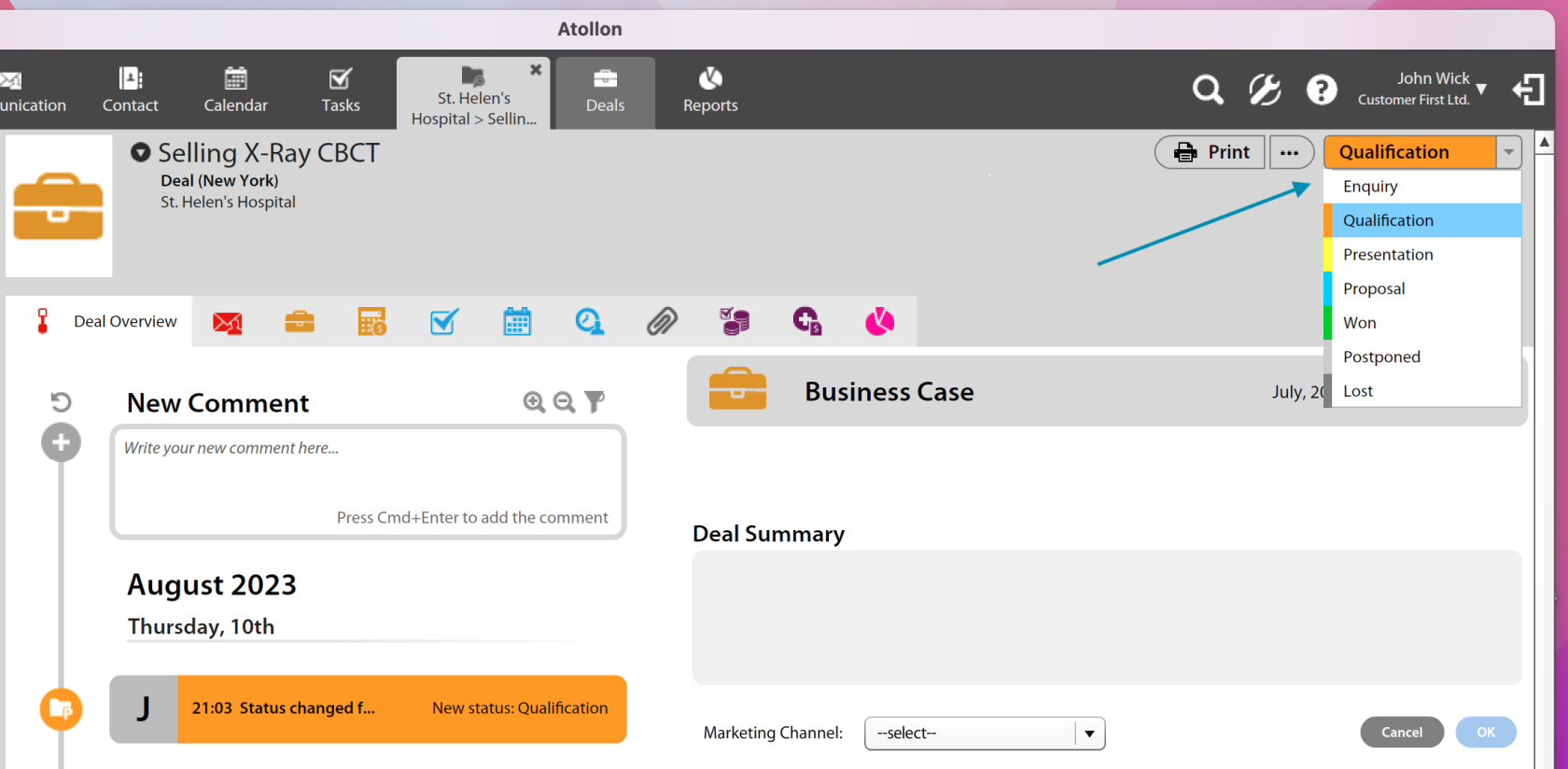 New project form may now be configured to include Sales Items, Billing Items or Technology Items.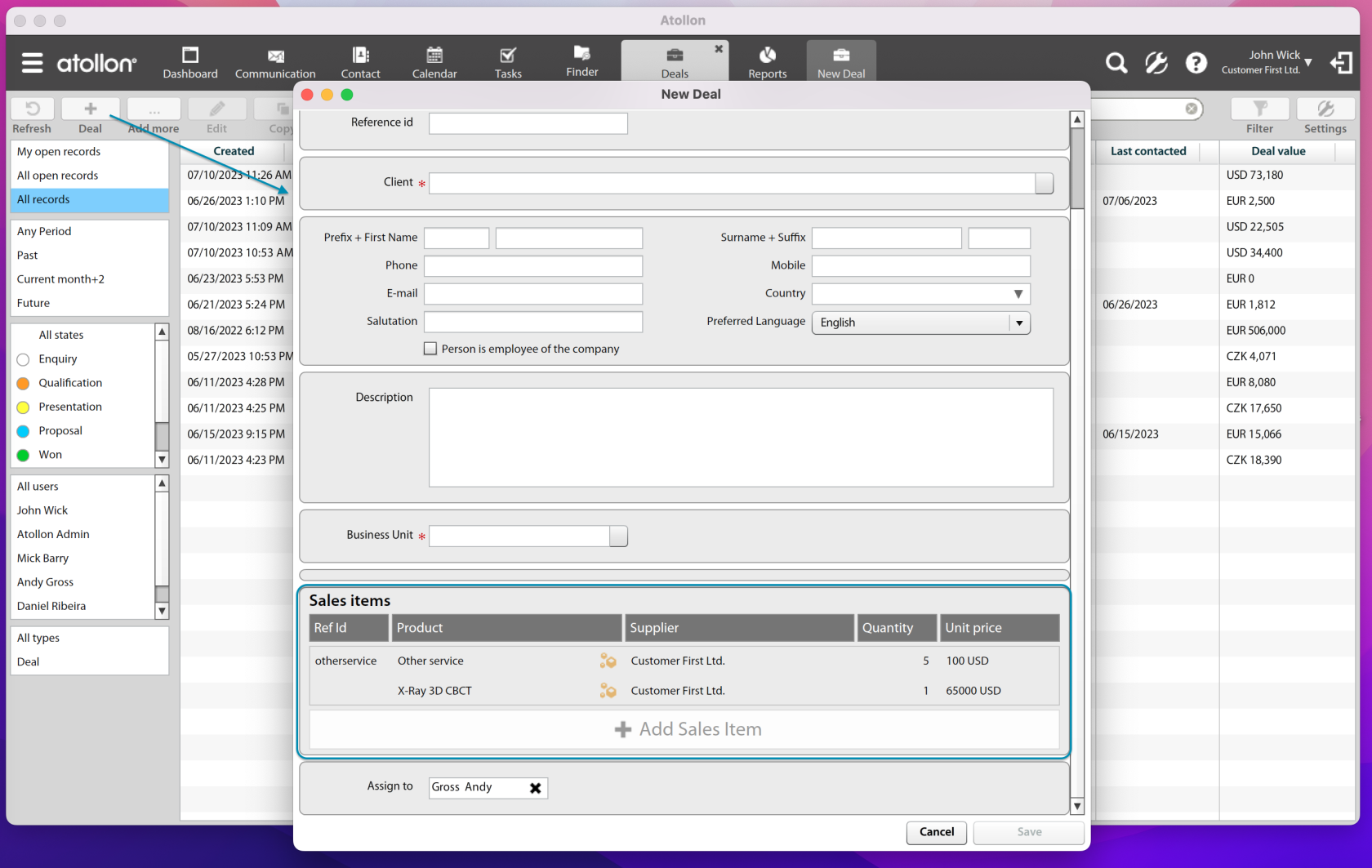 New project or activity forms are more customisable than ever.
Installed Technology
Component for tracking equipment / assets now supports displaying "Date installed".
It is possible to set visibility of units and unit prices to users.
Mass Mail
Support for Atollon Robot in Mass Mail template composition.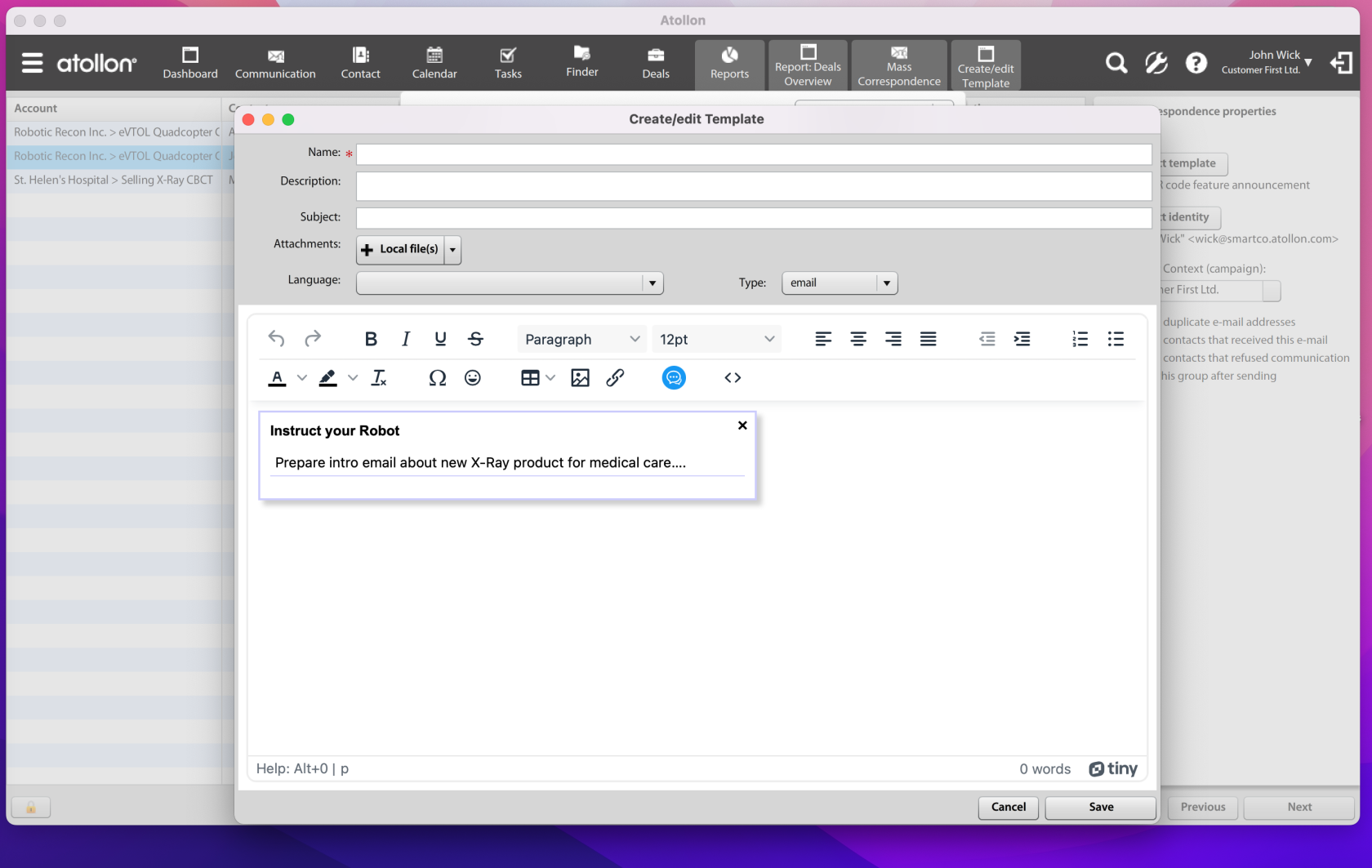 Products
Product price lists improved - it is now possible to inherit prices and the calculation is working just fine. Supported scenario: client's custom product price > inherit price from general price list (CZK, EUR, USD, etc.) > inherit prices from default product price setup.

Projects Overview
New card view introduced: We improved the way deals and projects are listed and previewed.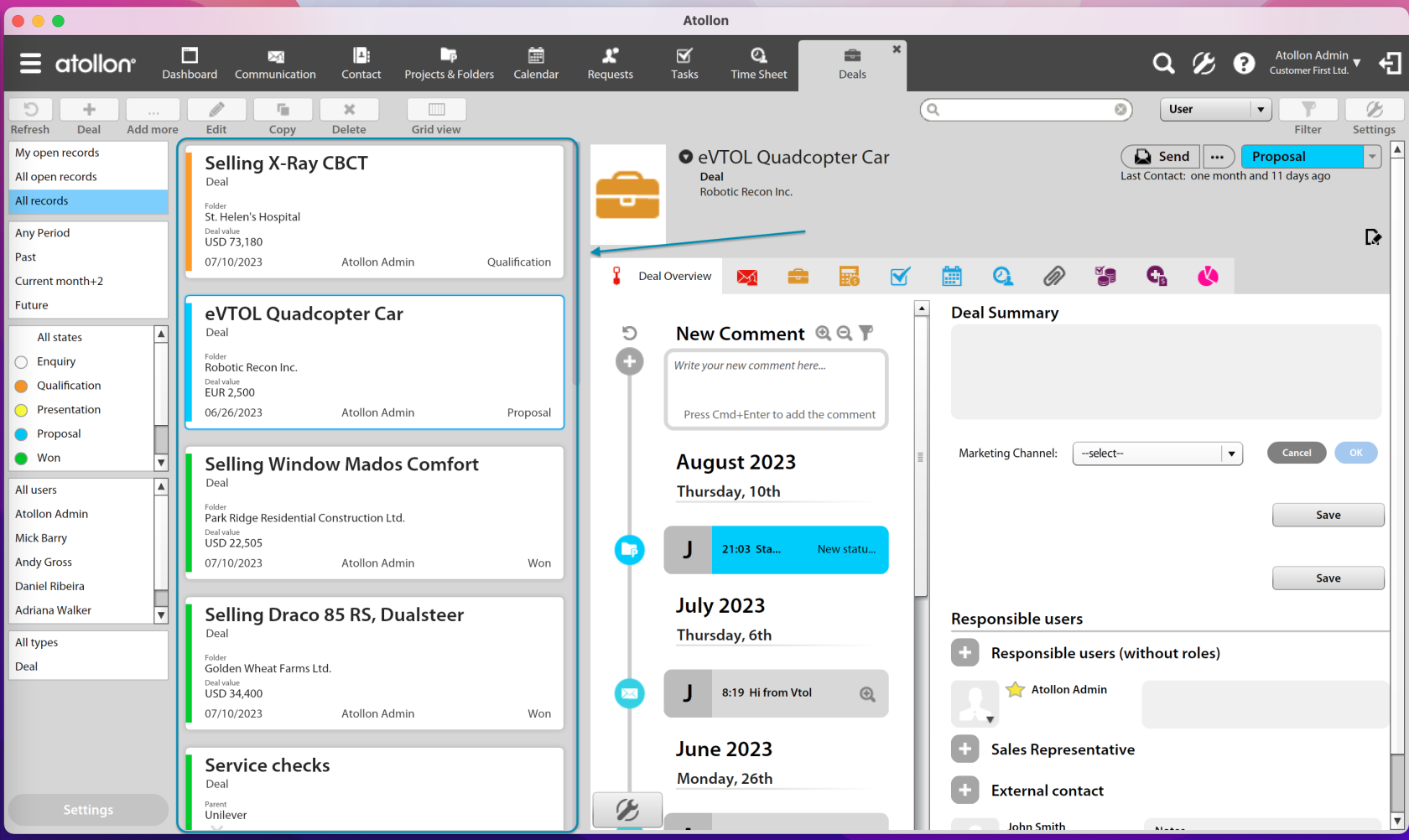 Recruitment
Several adjustments to Job Field + Positions to make this tool more comfortable when searching Applicants.
Other
It is possible to export and import form design, which is especially useful when working with large custom forms.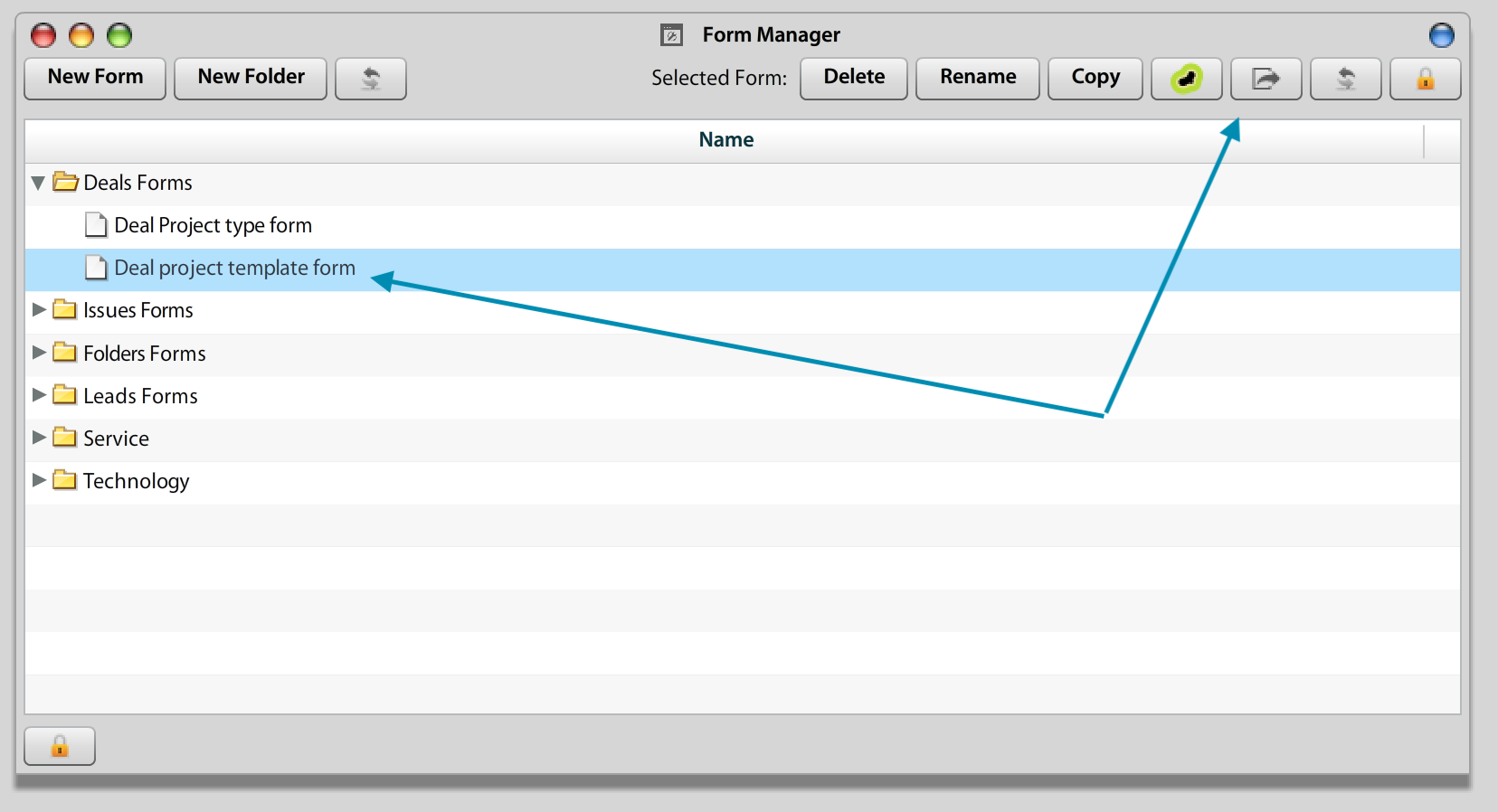 When creating new user, the duplicity check for selecting user's contact improved.
Bug Fixes
E-mail: Users using new TinyMCE editor may now attach server-based documents.
E-mail: Many small bug fixes in new TinyMCE e-mail editor component to support comfortable mailing.
E-mail: Fixed new e-mail message preview, which occasionally disappeared.
E-mail: Fixed e-mail preview on scaled resolution on Windows 11.
Installed Technology: Long content fixed.
Message of Phone Call type: Fixed adding phone number into new message, coming from selected contact.
Products: Fixed editing product components.
Finder: Responsible users without role - fixed removing last record.
Service activity: Signature component now supports immediate sending of signed Activity Print.